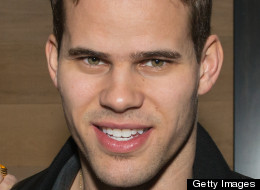 Looks like Kris Humphries is about to match his time spent in court with the time he spends on the basketball court.
The 28-year-old Brooklyn Nets star is
being sued by a suit shop in Beverly Hills
, whose designer is seeking over $50,000 in damages, reports TMZ.
According to the lawsuit, Humphries struck a deal with suit designer Scott Hill:
He'll bring around two of his NBA player friends
, and in return he'll receive a 30 percent discount.
Humphries agreed and
proceeded to purchase $46,000 worth of clothes.
According to Hill, Humphries never held up his end of the deal and never brought any of his friends around.
"The simple matter is that
we hoped Kris would live up to his side of the agreement
, but he chose not to appreciate that hard work my company put in," Hill told Hollywood Hip.
Meanwhile, Humphries still has his divorce from Kim Kardashian dragging through court, with
Kim's mother Kris expected to testify in the trial.
On top of that, a couple months ago he got involved in a defamation lawsuit when
a woman claimed Humphries gave her an STD
.
A request for comment made to Humphries' rep was not immediately answered.