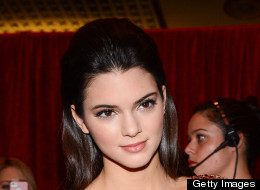 Kendall Jenner
recently said
that modeling is her "number one priority – one hundred percent."
And while she's already made her
New York Fashion Week debut
and
posed in Louis Vuitton
for Cosmopolitan, there's still one gig she'd really like to get.
In
an interview with E! News,
the "Keeping Up With the Kardashians" star, 17, says she'd love to model for Victoria's Secret.
"It's always been kind of a dream of mine," Kendall said. "It's something I'd love to do."
And while younger sis Kylie, 16,
has walked the catwalk
too, Kendall clarifies that their aspirations are different.
"Me and Kylie are sisters," she explained, "but not everything we can always do together...She's not trying to be a model. She's trying to be more like a personality, so..."
Kendall clearly lives for fashion (
look at that closet
), but there is one aspect of the job that she's struggled with.