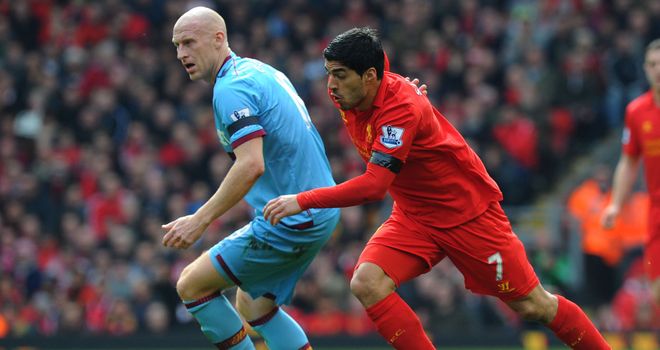 The West Ham centre-half won rave reviews for successfully shackling a Liverpool striker who has 29 goals this season, and his performance helped secure a goalless draw for the visitors.
"I thought about how I was going to defend against him before the game," Collins said.
"Suarez nutmegged me twice to be fair but I knew if you drop off, he is turning and running at you.
"I thought if I could get as tight as possible and tackle him as high up the pitch as possible, even if I fouled him there it was better than him running into the box.
"I was wary of the fact he goes over as well. That is why you have to stay on your feet. To win the ball, you just have to go for it sometimes. It was one of those games where it came off for me."
West Ham are now within two points of 10th-placed Fulham with seven games still to play.
Collins said: "Sometimes it is nice to slip under the radar and not have people talking about you too much.
"We've set our sights on coming 10th and we don't want to slip up now."