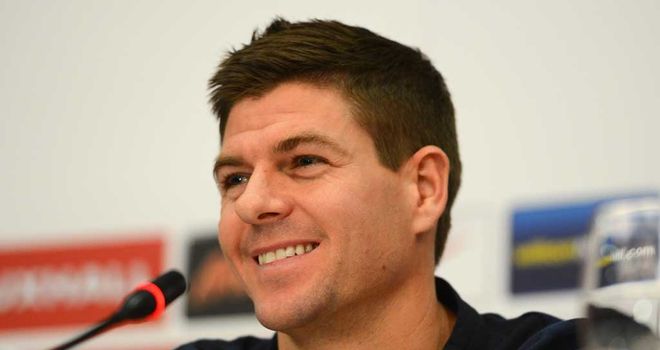 Steven Gerrard says Liverpool's late bid for a European spot is more important than the club sorting out his future.
Reds manager Brendan Rodgers has indicated he wants to speak to Gerrard about a new contract, with the Liverpool and England skipper having just 15 months left on his current deal.
Liverpool beat Aston Villa 2-1 to close the gap on sixth-placed Everton in the Premier League to three points and Gerrard is focusing all his thoughts on the chase for a European place.
Gerrard said: "For me, it (contract talks) is not a priority at the moment.
"The most important thing for me now is to move on to the West Ham game. I want to finish the season strong. I'm feeling good.
"Of course, I'm happy that the club are mentioning new contracts, but it's not important at the moment.
"What we need to do is put pressure on for that European place. A lot of the teams above us need to play each other.
"We're hoping there's a few slip ups above us and we can capitalise, but it's important that we take maximum points.
"Every game is a cup final now. That's what the manager said after the game. It's a little small short season left now if you like.
"We just need to play to our maximum every game because if we don't, like we didn't at Southampton, we know we'll be punished. We need the level of performance at Villa to continue."
Gerrard also refused to make excuses as to why Liverpool are only clinging to a slim hope of climbing into a European position.
He said: "I think if you say that you haven't got what you deserved, then there's an element of feeling sorry for yourself.
"We know what our problem is and it's inconsistency. In the majority of games we've played well enough to be higher than where we are in the league.
"But when you look at performances like Southampton, Villa at home, West Brom away, Arsenal at home, there's a handful of games in there where this team hasn't turned up.
"That's the reason why we are sitting where we are in the table. In between those games there have been some fantastic performances, well worth a top-four finish, so we know we're not far away."