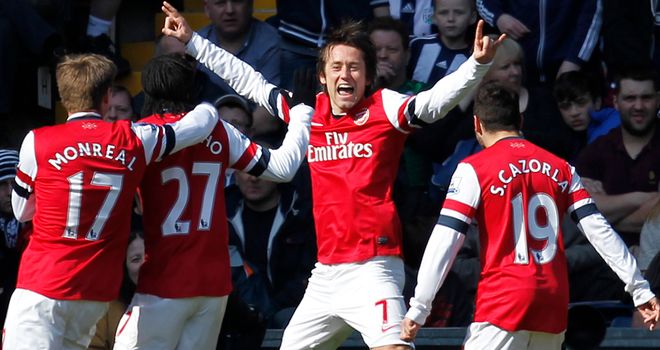 Rosicky notched a brace in Saturday's 2-1 win at West Brom, with the fifth-placed Gunners now just two points behind Spurs with a game in hand.
This position looks far rosier than last month when Arsene Wenger's side lost 2-1 at White Hart Lane to languish seven points behind their arch-rivals in the race for Champions League football.
But a 2-0 Champions League win at Bayern Munich has galvanised the Gunners, who have gone on to win three league games on the bounce to close the gap.
Rosicky, who was making only his second Premier League start in an injury-hit season in the win at The Hawthorns, said: "If we continue like this, I am confident we will get in the Champions League.
"The fans are desperate to end the season above Tottenham and we are as well. We're on the same page as that.
"Everyone wants to play and I am very glad to contribute again. It's difficult when you are not playing."
Rosicky believes the Gunners have taken a 'big lift' from their win at the Allianz Arena.
"It always gives you confidence when you win in Munich. And, when you have a difficult game like here, where in the last 20 minutes you've got your backs against the wall it gives you a big lift."
Arsenal have had their fair share of knockers this season and Rosicky believes it is up to the squad to show their worth.
"People having their opinion is absolutely fine. But sometimes it's just about the team itself. Every day, you have to fight for your club.
"Sometimes it's not easy when you see and hear what is going on around - but that's what you've got to do."