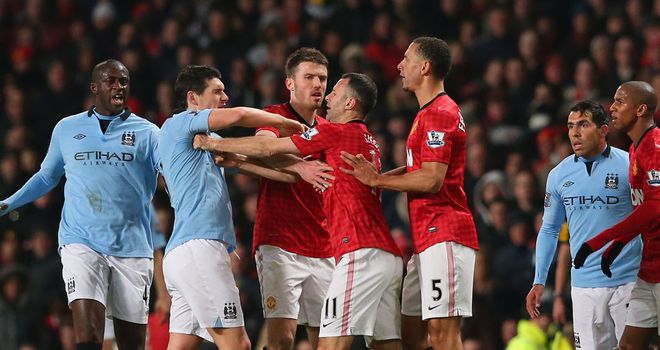 The relentless results that the Premier League leaders have compiled this season do indeed speak for themselves. But there had remained a nagging doubt about the true greatness of this Manchester United vintage that Ferguson would have wanted to dispel on Monday evening. A handsome victory over the defending champions would have gone some way to confirming things had changed between these two teams. Changed since the 6-1 Old Trafford thrashing of last season. Changed since the meek surrender at the Etihad Stadium one year ago.
Instead it was the visitors who claimed the victory for a second successive season. A third win in four Premier League matches between these sides. And it was just about deserved. United posed an attacking threat, of course, but there was never any indication that they had control of the contest and it was not a huge surprise when Sergio Aguero found the winner that saw City become the first Premier League side to win at Old Trafford since September.
Some Red Devils supporters may wish to downplay that achievement given that the title race is already over. And yet, this was arguably a bigger game for the home side than the visitors. City still have an FA Cup semi-final at Wembley to look forward to. This was the game to show just why United have claimed their title back. In fact, it will only have confirmed Roberto Mancini's assessment of the situation - his players' attitude has not been all it should be this season.
"The second year is always difficult to win the title again and sometimes the player can think it is enough to play 50 per cent," claimed Mancini last month. "We've probably had this problem this year." There is evidence to support his theory. Defeats at Sunderland and Southampton, draws at Queens Park Rangers and West Ham, with a solitary point from two games against Everton. It's not been clinical enough.
Monday's hero is perhaps the prime example. The Argentine forward announced his arrival in England with 30 goals last season but has managed to find the net just 14 times in the current campaign, scoring only six times in 18 appearances prior to the derby. That brilliance against QPR in May will never be forgotten and he gave the fans another moment to remember at Old Trafford, but winning a title requires quantity as well as quality.
"We have played good, but some games we have made mistakes," said City team-mate Aleksandr Kolarov last week. "Against small teams, we have made a lot of mistakes - away especially. If we play like we know, if we are all at 100 per cent, I think we are better than them."
On Monday evening in front of the watching millions, Manchester City went some way to suggesting there is some truth in that statement. And strangely enough, that's likely to be a source of disappointment for both sets of supporters as the dust settles on the 165th Manchester derby.