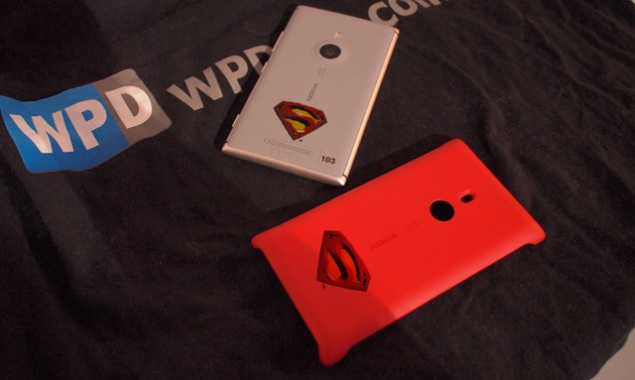 Nokia is planning a special treat for Superman fans. According to a report, the Finnish smartphone-maker is all set to launch a special Superman edition of its Lumia 925.
As per a news report in WP Dang, Superman edition of Nokia Lumia 925 will be launched in China on June 14. The launch will coincide with the release of the new Superman movie -Man of Steel.
While there are no additional features in the Nokia Lumia 925 superman edition, the smartphone is likely to get Superman branding at the back panel and also have a branded wireless charging cover. This smartphone will also have the recently launched Man of Steel Windows Phone 8 app, which has been developed exclusively for Nokia Lumia smartphones, preloaded. As of now there is no word on whether the Superman edition version of this smartphone will be available in other markets apart from China.
Nokia had recently launched the Lumia 925 smartphone, which comes with a polycarbonate body that is associated with devices in the Lumia range, but with a metal strip around the body. As far as the specs on the Nokia Lumia 925 go, it comes with a 4.5-inch AMOLED ClearBlack display with 768x1280 resolution and Gorilla 2 Glass. It is powered by a 1.5GHz dual-core Snapdragon processor alongside 1GB RAM and 16GB of internal storage. It has an 8.7-megapixel PureView rear camera and 1.2-megapixel wide-angle front camera.
Nokia Lumia 925 features a 2,000 mAh battery and runs Windows Phone 8. The Nokia Lumia 925 had recently been listed on the Indian retail sites but there is no word on when this smartphone will start retailing and at what cost.
Last year, around the same time, Nokia had launched the Batman-themed Lumia 900 the Dark Knight Rises Edition. This smartphone offered exclusive The Dark Knight Rises content like themed wallpapers, ringtones and limited edition Batman or Bane character images, in addition to Batman branding on the phone itself.
(Image used is a mockup of the phone. Courtesy: WP Dang)

Mobiles launched in May 2013
Nokia Lumia 925 key specifications
4.5-inch AMOLED ClearBlack display with 768x1280 resolution
1.5GHz dual-core Snapdragon processor
8.7-megapixel PureView rear camera
1.2-megapixel wide-angle front camera