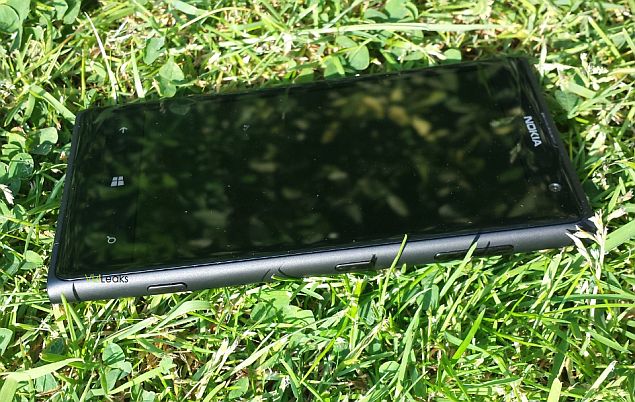 After making an appearance in pictures leaked on the Internet, the Nokia EOS PureView branded Windows Phone has apparently got some hands-on treatment.
Vizileaks, which earlier leaked purported pictures of the EOS phone on Twitter, has now posted a blog entry offering more information on the phone complete with new pictures including pictures of the phone's user interface.
It mentions that the phone is big, Black and on the bulky side due to the 41-megapixel camera sensor, however, the user couldn't judge if the material used in the construction of the phone was Polycarbonate or metal, though it felt metallic. It looks similar to the recently announced Lumia 925 from the front but sports the big protruding camera lens at the back. The Volume rocker, Power/ Screen lock key and the Camera shutter key are located at the right side of the phone, with the left side remaining bare, while the micro-SIM tray, the 3.5mm headset jack and the noise cancellation microphone sit at the top. The micro-USB port, lanyard slot and a drilled speaker grill are at the bottom.
The back of the phone features two metallic contacts for wireless charging covers and of course the giant camera lens without any specific marking for the resolution. The post confirms that the specifications floating on the Internet are likely to be accurate but the user couldn't verify them.
Vizileaks has also posted a video of the EOS Phone's camera shutter in action.
A recent report claimed that Nokia Lumia EOS is already being tested by AT&T, claiming that the phone is codenamed Elvis and will be released sometime in July. Apart from the 41-megapixel camera sensor, this smartphone is rumoured to have OLED display, which has a screen resolution of 768X1280 pixels and 32GB of internal storage. Much like the other smartphones in the Lumia series, Nokia Lumia EOS too is expected to come with a polycarbonate body and will not support microSD card. This smartphone is also alleged to come with Flip to silence feature.
Prior to that, it was also reported that the phone features a new "Nokia Pro Camera" app that has a refreshed interface, while the regular camera app is also available. The camera interface also offers manual focus.