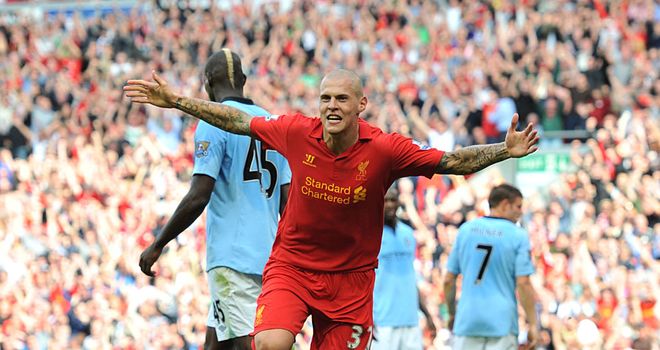 Martin Skrtel: Can replace Liverpool legend Jamie Carragher when he leaves Anfield at the end of the season, according to Jose Enrique
The veteran centre-back has just two games of his 16-year career remaining, and there has been plenty of speculation about who will be brought in as a replacement.
With Swansea's Ashley Williams and Ajax's Toby Alderweireld strongly linked with a move to Anfield, Enrique insists the answer is Skrtel - providing he stays with the Premier League side.
"Carra is the type of player who wants to play all the time," Enrique said.
"You cannot say anything about a player who has played more than 700 times.
"And I know it has been a difficult year for Skrtel because he has not been playing as much but last year he was the best centre-back and this year he is the worst.
"But I train with Martin every day and he is a top centre-back. For me Danny (Agger) and Martin are the best centre-back partnership in the Premier League.
"You can have one year good, one year bad. It happened to me.
"The players who play in the Premier League are there because they have quality and confidence.
"It is all about confidence. Martin is an incredible lad and a top player."
Meanwhile, Philippe Coutinho, who picked up his second successive player of the month award since arriving in January, paid tribute to the fans, his Liverpool team-mates and manager Brendan Rodgers.
"I have to thank my team-mates and the supporters for their support and I hope to contribute with my performances.
"I have been working very hard to be able to adapt very quickly and I think everything is working out very well.
"I thank God and my team-mates for making me feel so welcome and for helping me a lot on the pitch.
"I have to improve a lot and learn much more in our training sessions.
"I like to play football, I like to enjoy myself while playing. I play in any position, I have no preference but it all depends on the manager.