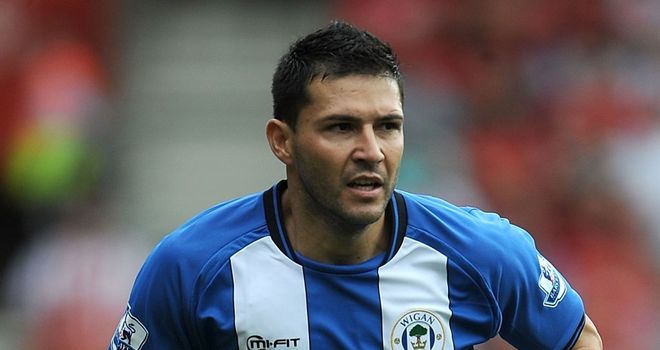 Antolin Alcaraz: Wigan defender suffered hamstring injury in West Ham defeat
Wigan are waiting to discover the extent of an injury suffered by Antolin Alcaraz at the weekend.
The centre-half damaged a hamstring and was substituted during the first half of Saturday's 2-0 defeat at West Ham - a result which kept Wigan in the bottom three of the Premier League with just five games of the season to play.
And Roberto Martinez faces the possibility of losing a player whose return from a previous injury in February coincided with an upturn in results.
The Latics manager told the Wigan Evening Post: "The injury to Antolin made for a very difficult afternoon for us at West Ham.
"He's got a soft tissue injury to the back of his hamstring, and so we'll assess him this week before discovering exactly how long he'll be out for.
"It's obviously a real negative note, and had an effect on how we wanted to play."
Alcaraz missed almost six months earlier this season with a groin problem, and Wigan have won five of nine games since his comeback.