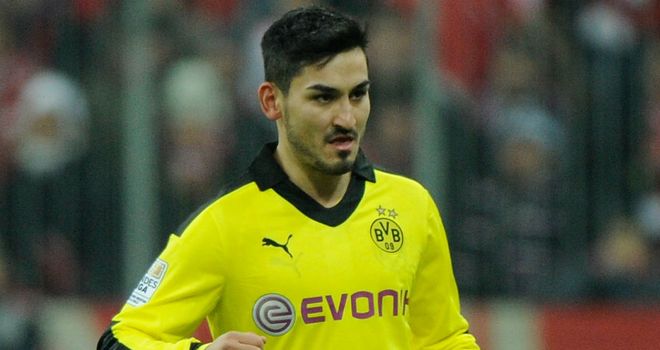 Borussia Dortmund ace Ilkay Gundogan has admitted he would be interested in a move to England and Spain in the future, but has no immediate plans to leave Dortmund.
Gundogan has impressed for Dortmund this season helping them reach the semi-finals of the UEFA Champions League and his performances have not gone unnoticed among other clubs.
The 22-year-old admits he would like to play in Spain or England at some point in his career, but that he is happy to stay at Dortmund for the foreseeable future.
Gundogan told Sport Bild: "It is not reprehensible to answer such questions (of a future career in England or Spain) with 'yes'
"Everyone has a childhood dream on what he would like to achieve one day and my dream always was to play in England or Spain.
The German international revealed that he expects to be at Dortmund next season and is hopeful of signing a new deal at the club.
"I am 100 per cent sure that I will still be with Dortmund next season," added Gundogan.
"Rumours do not really affect me. I still have two more years on my contract with Dortmund and I know what I have at this incredible club.
"It is very likely that I will sign a new contract, although it obviously depends on how talks go."