With Baz Luhrmann's
Gatsby
in theaters, I suppose it's fitting to take a look at the three most recent adaptations. This includes Jack Clayton's in 1974, Robert Markowitz in 2000, and Luhrman's in 2013.
There have actually been six screen adaptations.
The first was a silent film directed by Herbert Brenon released just one year after the book–apparently F. Scott Fitzgerald walked out of it halfway through. It's considered to be a lost film with the only footage left of it to be the trailer where you can find here: http://www.youtube.com/watch?v=Asajgm-ciWA.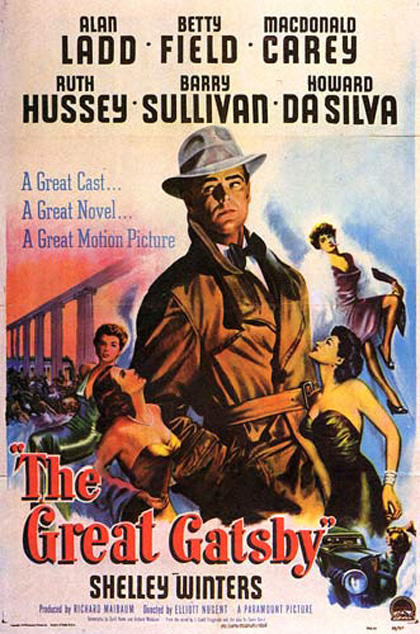 Elliott Nugent adapted a film noir-esque version in 1949. It used to be available online, but due to copyright reasons I could not find it. Nevertheless, it has been said to look and feel more like 1940–with all its fedoras and trench coats–rather rather than the 1928 setting it was going for. It took much more liberties with the source material than the other versions the least of which being Nick and Jordan leaving the east together. That being said, I will not be mentioning it a whole lot.
The other version you may not have heard of is a looser adaptation simply called G (2002). In this version, the Gatsby character is a Hip-hop mogul known as Summer G. Judging by the reviews and the trailer (http://www.youtube.com/watch?v=n-uvPeKVOVw), it's best I don't mention it again.
Now for the cast comparisons.
From Right to Left: Scott Wilson, William Camp,

Jason Clarke
Jason Clarke changed up the usual take on George by giving us a less wimpy version than that of Scott Wilson's and William Camp's. This allowed for his disillusionment in life and his conviction in God to be conveyed neatly; not to say that Scott Wilson's wasn't good, but these aspects were brought out better in Clarke. The Luhrmann movie did suggest, however, that he was abusive towards Myrtle which may not sit well with everyone, but Clarke still gives the best performance and serves the story better than the other two George Wilsons.
From Right to Left: Karen Black, Heather Goldenhersh,

Isla Fisher
When put up against Karen Black and Heather Goldenhersh, it's not much of a contest. The former is annoying as hell and the latter is just too bland to remember–though this could be because she had maybe three lines in the 2000 version. I wish I could have seen Georgia Hale–known for many Charlie Chaplin movies including The Gold Rush (1927)– when she played the role in the lost 1926 version; she sounds like nice fit. It's too bad that Myrtle in the 2013 version was mostly included in the lackluster beginning of the movie, but Isla Fisher still served her purpose well enough to make her the best of the three most recent Mrs. Wilsons.
From Right to Left:

Lois Chiles

, Francie Swift, Elizabeth Debiki
Debiki's tall, lean body certainly fits the look of Jordan perfectly and her personality fits nicely too, but she isn't given as much room for her character as Chiles gets. The opposite can be said for Francie Swift's version which is almost as good as Debiki's. The 1974 version gets the best product as we get to see Jordan's romance with Nick as well as her other side as a morally lacking liar and cheater. Ruth Hussey's (best known from The Philadelphia Story) version in 1949 sounds like it'd commendable since she has a headstrong yet gentle-when-she-wants-to-be air around her. Lois Chiles, though, comes out on top.
From Right to Left: Bruce Dern, Martin Donovan,

Joel Edgerton
This was the easiest to decide considering Edgerton was up against Bruce Dern and Martin Donovan. Dern's old money "hulking brute-of-a-man" is hardly that; he, like most of those in the '74 version, is far too soft-spoken to contribute to the drama. His soft-spokeness is laughable and diminishes his presence making Dern appear more nasty than intimidating. Donovan's Tom isn't as problematic as Dern's, he is just too damn boring to make me think twice about him; he doesn't appear to have much going on in his head which is the opposite of Edgerton's Tom. In the 2013 movie, Edgerton stole the spotlight for a good chunk of the film even over DiCaprio's Gatsby. Before the hotel scene, it's easy to underestimate Mr. Buchanan, but when he pulls out the big guns, in that scene and in Myrtle's death scene, he speaks painful truths and even appears sympathetic making for easily the best Tom Buchanan.
From Right to Left: Mia Farrow, Mira Sorvino,

Carey Mulligan
Daisy, in my opinion, is the most difficult character to play; her enduring enigma surpasses that of Gatsby's. Mira Sorvino was the most different Daisy; the simplest no doubt. The reason why that simplification is a real killer is because it blurs the motivations behind her choosing Tom in the end. Plus, the script carried her around making for a boring performance. Mia Farrow did a commendable job that was let down mostly by shoddy direction. Farrow's performance isn't too different from Mulligan's except for the latter's stronger chemistry with her castmates that lets us see something more believable. A difficult character to really pinpoint and it is the perfectly cast Carey Mulligan who does it the best.
From Right to Left

Sam Waterston

, Paul Rudd, Tobey Maguire
Every reaction feels so earnest thanks to Waterston's quiet charisma. He was the best thing about the '74 version. In the 2000 made-for-television movie, Paul Rudd appears to be napping the whole time out of boredom. His natural charm was nearly absent because of this and he had a severe lack of facials. The only smirk I got out of this version came from one of Rudd's several ad-libs. Maguire does a fine job in bringing a strong friendliness to Nick that made his and Gatsby's bond feel organic which added to his scarred mental state as a result of the latter's death and the east's moral disruption. Even so, Maguire doesn't reach the same level as Waterston. In his version, Gatsby's wonder isn't conveyed through Gatsby, it's brought out through Nick's awed reactions. The ideal Gatsby film would have Sam Waterston.
From Right to Left: Robert Redford, Toby Stephens,

Leonardo DiCaprio
To get the worst out of the way, Toby Stephens gives a dopey, unbelievable Gatsby with an unappealing smile and no charm. Robert Redford brings some complexity to Gatsby, but he is much too stale in the drama department to rightfully say that he shines in any respect. He also keeps the same level throughout; in the '74 movie, Nick is far more interesting to watch when they are together when it should be the other way around. DiCaprio, however, pretty much exemplifies the whole novel in his performance alone. His Gatsby is so clearly stuck to his own illusions that you really want to hope along side him; the fervid smile of his casts a spell. A perfectly cast Gatsby indeed.