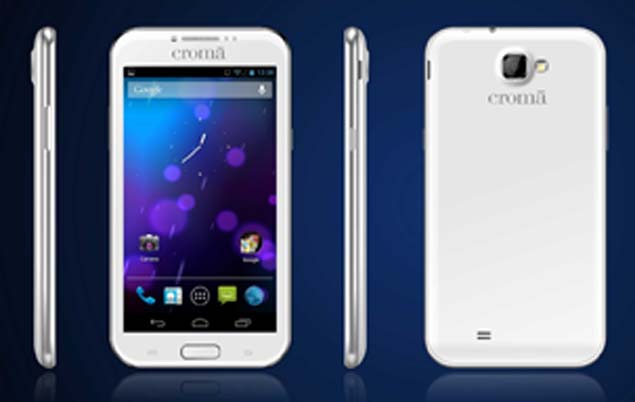 Croma launches dual-SIM Android smartphone and phablet
Infiniti Retail has launched a smartphone and a phablet in the Indian market under its 'Croma' brand name.
The first smartphone that the company is offering has a 4.63-inch capacitive multi touchscreen display. It runs on Android 4.0 (Ice Cream Sandwich). Priced at Rs. 8,990, it is a dual-SIM smartphone that is powered by 1GHz dual-core processor. It comes with 4GB of internal storage, which can be expanded by 32GB via microSD card. For camera, there is an 8-megapixel rear camera and 2-megapixel one on the front.
The Croma phablet, on the other hand, comes with 5.3-inch capacitive multi-touch display. It is powered by 1GHz X2 dual-core processor with 4GB of internal storage, which can be expanded by 32GB. Priced at Rs. 10,990 the phablet runs on Android 4.1 (Jelly Bean). It is a dual-SIM device as well.
Speaking on the occasion Mr. Ajit Joshi, MD & CEO, Infiniti Retail said, "While we laud our partners for their outstanding products that take the communications category to the next level, we also take great pride in announcing the launch of our very own range of Croma Smartphones, which are innovative not only in terms of the experience that they provide but also in terms of the value proposition. The Croma Smartphones best meet the growing consumer preference for a large screen device that gives them a great multimedia experience and superior performance. It has always been our effort to bring the best technology at affordable prices and to strengthen our philosophy of helping customers buy, by bringing in premium quality and innovative products."
Croma smartphone 4.63-inch key specifications
4.63-inch capacitive multi touch screen
1GHz dual-core processor
4GB internal storage, expandable by up to 32GB via microSD card
8-megapixel rear camera with flash
2-megapixel front-facing Camera
Dual-SIM
Android 4.0.4 (Ice Cream Sandwich)
Croma 5.3-inch phablet key specifications
5.3-inch capacitive multitouch screen
1GHz X2 Dual Core
4GB internal storage, expanded by up to 32GB
8-megapixel rear camera
2-megapixel front camera
Dual-SIM
Android 4.1 Jelly bean