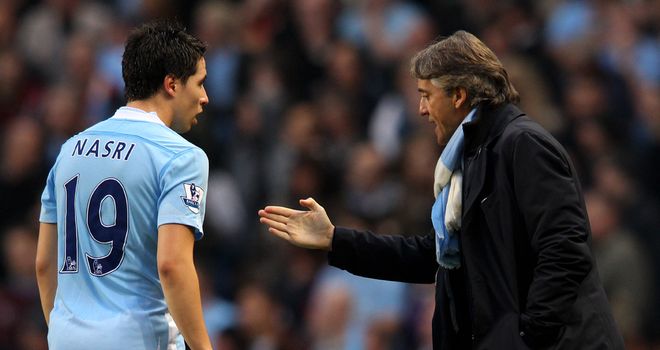 Samir Nasri has reacted with disappointment to Roberto Mancini's quip that he wanted to "punch" the French midfielder due to his inconsistency.
Former Arsenal player Nasri was outstanding for Mancini's Manchester City in their 4-0 weekend win over Newcastle in the Premier League.
However, he has struggled to string together impressive displays for last season's champions and City manager Mancini expressed his frustration over Nasri after the crushing win over Alan Pardew's men.
Mancini was widely quoted as saying: "I would like to give him a punch. Because a player like him should play like this always."
Mancini also said he felt some City players were only playing at 50% of their ability this season.
Nasri concedes he has been far from his best this season, but he feels Mancini was wrong to say he wanted to punch him.
Speaking to French sports broadcaster beIN Sport, Nasri said: "Mancini has shown a little proof of bad faith when he said he wanted to punch me.
"I've not had a good season, I know it, I'm aware of that. I am the first to be self-critical. But it's not true that I'm playing at 50%.
"I think the coach still doesn't handle English very well and sometimes uses expressions that aren't really suitable."
Nasri also aimed a swipe at Mancini by revealing Arsene Wenger was the best manager he has worked with and that if his fellow Frenchman was in charge at City he may not have experienced the problems he has this season.
"Arsene Wenger is the greatest coach I've worked with," added Nasri. "If I'd worked with Wenger at Manchester City, maybe I would have avoided some problems.
"Arsene Wenger is the one who understood me most, with whom I had the greatest affinity. I'm very grateful to him as he signed me after perhaps my worst season at Marseille when I had a bout of meningitis. He played a huge role in my career."