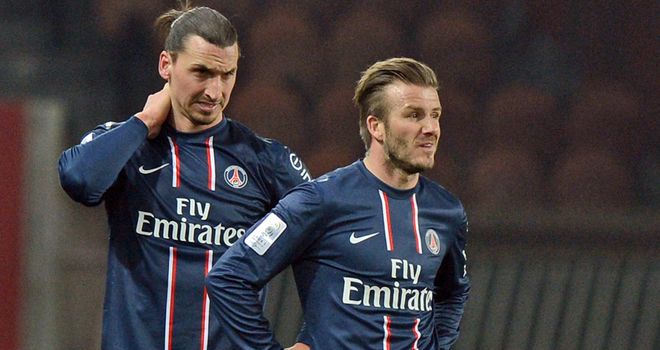 Zlatan Ibrahimovic has urged David Beckham to remain at Paris Saint-Germain and help them win the UEFA Champions League next season.
The former Manchester United and Real Madrid star signed a five-month contract with the French giants in January, but the club's hierarchy are keen on Beckham extending his stay.
Ibrahimovic insists Beckham's influence has been immeasurable and feels the Englishman can help the Parisians conquer Europe.
"We are going to win the Champions League - and David is going to be part of it," said the Swede.
"The owners want him to stay, the coach wants him to stay, the players want him to stay, and that is why I am sure he will commit to at least another season in the summer.
"David is a true professional and he is as disappointed as anybody, but he believes in this project and that is why he will stay.
"Of course it is disappointing to go out to Barcelona. Over the two games we thought we had done enough to beat them.
"The positives are that Europe have seen what we are about, that we are not just a wealthy club playing at this, but we can compete with any team in Europe."
Meanwhile, Thiago Silva has admitted he would love to see Manchester United striker Wayne Rooney move across the channel to the Parc des Princes.
He said: "If he is thinking of a new challenge there is no better place to be than here.
"This team will win the Champions League in the next three or four years. It is the most exciting project in football."