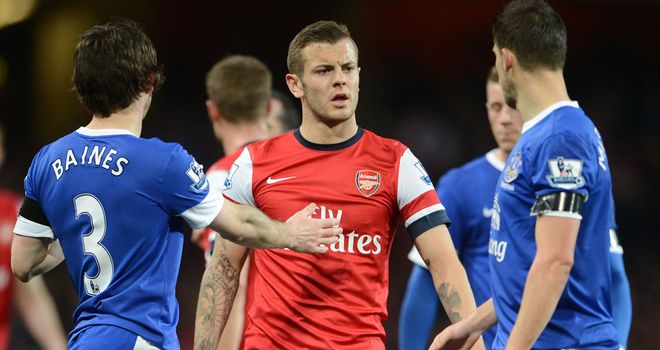 The Football Association have announced that they will not be taking any action over the scuffle between Arsenal's Jack Wilshere and Kevin Mirallas of Everton on Tuesday night.
The duo clashed when, as the players walked towards the tunnel at half-time, Mirallas squirted Wilshere with water from a bottle.
Wilshere did not take kindly to the antics of the Belgian forward and pursued him into the tunnel, where the duo had to be separated by other Everton players.
The spat capped a feisty first-half, during which the Arsenal players were angered by some robust Everton challenges and the decision not to give Darron Gibson a second yellow card for a body check on Theo Walcott.
However, referee Neil Swarbrick did not feel the incident warranted further action, so neither player will face any punishment.
The news will be a relief to Arsenal manager Arsene Wenger and Everton boss David Moyes, as the two clubs are involved in a tight battle for Champions League spots and any suspensions would be most unwelcome.