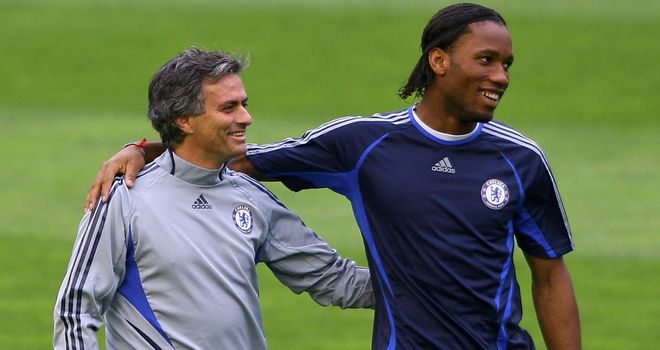 Didier Drogba has backed Jose Mourinho as the ideal replacement for Rafa Benitez and says it would be "special" to see him return to Chelsea this summer.
The Ivory Coast striker was one of Mourinho's first signings at Stamford Bridge and they won two Premier League titles together during the Portuguese's first spell in charge between 2004 and 2007.
Chelsea are currently 22 points behind leaders Manchester United in this season's Premier League title race and interim boss Benitez has confirmed he will not continue in the role after this season.
And Drogba says Mourinho, who is expected to leave Real Madrid this summer, would be able to revitalise Chelsea if owner Roman Abramovich was to offer him the chance to return.
He told Sky Sports: "I don't know the other options, but the only man I know is Jose and if there's a possibility for him to come back I think it would be great for the club.
"And for the fans because everybody loves him there and everybody respects him. We know he's got something special.
"He creates something that brings all the players together and a special feeling like a family. We are like a family with him.
"We can go to war - we love this expression - we can go to war with him and that's what makes his team win."
Drogba, who signed for Galatasaray in January, is preparing to face his former boss in the quarter-finals of the Champions League on Wednesday night.
After ending his eight-year spell at Chelsea last summer, he says he is committed to the Turkish giants, but hinted he could be tempted to return to Stamford Bridge if he was given the chance to work with Mourinho again.
"Why not?" Drogba added. "It would be interesting."
"But for now I'm really happy here and I want to go until the end of this experience and see what I can bring to this club.
"This club has more than 25million fans all around the world, so it's a big club with big potential. They can work on this and that's why they've signed big players like Wesley Sneijder and like me.
"I think the team can create a big surprise in this Champions League because we are ambitious, we are passionate and we have a good team."