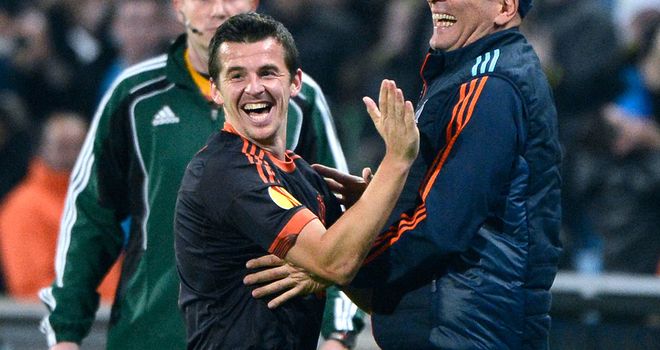 Barton, on loan from QPR, was on Wednesday ordered by OM officials to cease his attack on Paris Saint-Germain defender Thiago Silva, which was also condemned by PSG and a prominent anti-homophobia group based in the French capital.
Barton wrote a series of Twitter messages on Tuesday evening and on Wednesday morning, in which he went as far as questioning whether Silva was "pre-op or post-op".
But Baup, speaking at his pre-match press conference ahead of Friday's home Ligue 1 game against Bordeaux, said: "What is important to me is the communication from the club.
"I am the coach of OM and I have to intervene (only) on larger matters. The communication of individual players is their own responsibility.
"I have a boss and a direction. Barton holds an important place in the team and I make decisions in the game - for example, that he (Barton) did not start against Nice (last weekend). That is my responsibility. Beyond that, it does not concern me."
Barton's outburst apparently stemmed from comments made by Silva ahead of PSG's Champions League quarter-final against Barcelona, when there was an oblique reference to Barton. Silva spoke of an English Marseille player whose name he claimed to have forgotten that had taken to criticising big-name players including David Beckham because nobody was talking about him.
On Wednesday night, Marseille said in a statement that the club and Barton were keen to apologise for the midfielder's "inappropriate comments", adding: "The management asked Joey Barton to put an end to the attack on PSG's Brazilian defender. The Marseille midfielder pledged to immediately cease the posting of anything derogatory about Thiago Silva."
Barton made his initial "overweight ladyboy" remark following PSG's 2-2 draw with Barcelona, and yesterday morning added: "2 questions for Thiago Silva. Firstly, Why are YOU talking about ME, in your press conference before PSG v Barca? Very strange.
"Secondly, Are you Pre-Op or Post-Op? #transsexual #thiagosaladyboy.
"Baffles me, which way he's going. Is he a man changing to a woman or a woman changing to a man? Can't work it out."
The anti-homophobia group Paris Foot Gay said they had discussed Barton's comments with French league chiefs, and that they had been told he would be reported to the French Football Federation's national ethical council.
Reports from France on Wednesday night claimed that the FFF would not be taking the issue any further, after reviewing Barton's comments.
Paris Foot Gay said that Barton's comments were "without doubt based on the stereotype linking Brazil to transsexualism".
In a statement on their website, they added: "Paris Foot Gay considers this type of remark to be vulgar, discriminatory and funny to nobody and it should not be tolerated in someone with such a profile. To be a football idol excuses nothing and should, on the contrary, make players responsible for the impact of their remarks on the public - youngsters especially."
Silva's club were quick to defend their player, as PSG expressed their unhappiness with Barton's "unacceptable remarks".
The Ligue 1 leaders warned they could take action, which they did not specify, against the former England international.
A statement from PSG announced: "In the last few hours, on social networks, unacceptable remarks have been made by Marseille player Joey Barton against Paris Saint-Germain player Thiago Silva.
"These attacks are serious and go beyond mere verbal jousting. The directors of the club, the players and the coaching staff are supportive of Thiago Silva and cannot accept such statements.
"They reaffirm their unwavering commitment to the values of respect that should govern our sport.
"Thiago Silva and Paris Saint-Germain reserve the right to take any action they deem necessary."
On Thursday, France's sports daily L'Equipe has a picture of Barton dominating its front page, with the caption "Is that British humour?".